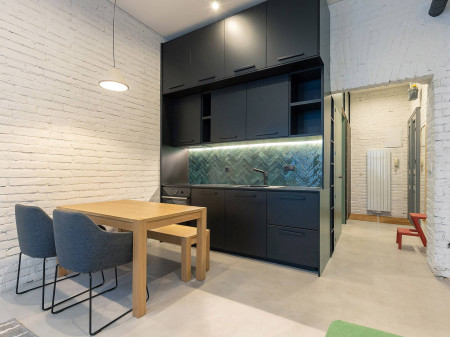 Apartment Dobrovičova
The space is open with high ceilings typical of historic buildings
Two-room apartment in the historical part of Bratislava in a simple, modern style was created by the complete reconstruction of an originally one-room apartment. Thanks to the built-in furniture forming the walls of the rooms, it was possible to create an efficient and at the same time cozy layout.
The basic requirement, in addition to the new look, was the efficient use of space where it would be possible to create a separate bedroom. This was achieved by creating a central furniture element in which the kitchen unit, toilet and bathroom are located. The remaining space is open and divided into a living room with a kitchen and a bedroom.
The original wall structures are plastered over and painted white. What is new and what is old can be read throughout the space. The new floor, including its underlying layers, made it possible to place all new technical distribution systems without significantly affecting the walls.
The space is open with high ceilings typical of historic buildings. A simple color scheme combining white, green and black unifies the interior. Glass elements incorporated as a bathroom wall and a skylight above the bedroom furniture open up and illuminate the space.
As part of our services, we participated in the entire process of apartment renovation, from the design to the budget and the selection of the supplier to the on-site inspection and handover of the space.