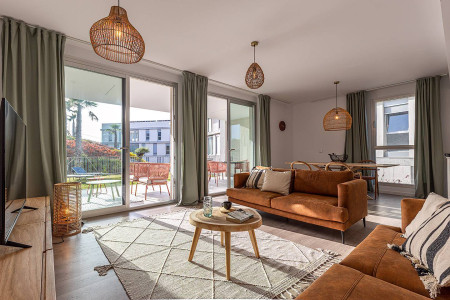 Apartment Estepona
The coast of southern Spain
The client was interested in an apartment in an attractive tourist destination on the coast of southern Spain. We helped him find a suitable property in a nice urbanization on the edge of a picturesque town and furnished it according to his wishes.
Apartment suitable for rent
The apartment is part of a nice modern complex of apartments on the coast of the Mediterranean Sea. It is intended for holiday stays of the client and occasional rental. The apartment has a terrace and a small garden with an orientation towards the privacy of the inner block of the residential complex. The terrace and the garden are very intensively used parts of the apartment in the local climatic conditions. Within the complex, the owners have at their disposal a common swimming pool and a common residential garden.
Simple and functional interior
The interior is furnished simply and functionally with an emphasis on the local atmosphere. The choice of materials, colors, shapes of interior elements and accessories refers to local traditions. wooden elements, rattan elements, textiles in natural colors are used.
The layout includes two bedrooms with bathrooms, a study and a living space. A separate office allows clients to stay longer away from their permanent residence and work remotely. It can also be used as a guest room.
The living space is open and spacious, connected to the terrace and garden. The Red-Green color scheme is inspired by the natural surroundings and local traditional elements in architecture and design. Comfortable seating and dining both on the terrace and in the interior reflect the local lifestyle. Home residents often intensively use terraces as the main living space.
The lighting of the living space is subject to the time when the individual rooms are used. Bathrooms are illuminated with stimulating light of daytime temperature, bedrooms and living space are illuminated with warm relaxing light, and handy evening lamps have a low light intensity and a high temperature corresponding to late evening use.
Our services included the selection of real estate according to the client's requirements and possibilities. Inspections and comparisons of selected options. The design of the way of use and the custom-made furnishing of the premises until moving in.