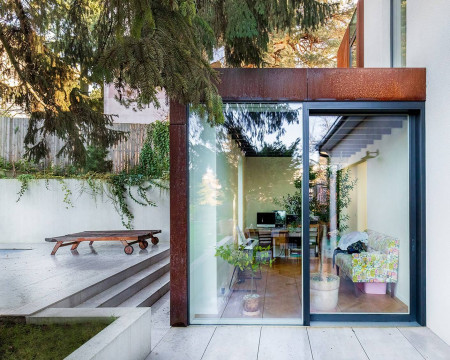 Family house Staré mesto Bratislava
Reconstruction and extension of a family house. The old town of Bratislava
Reconstruction of the post-war Villa
In this project, we dealt with the reconstruction of a post-war villa near the Bratislava Calvary. Together with the client, we tried to preserve the genius of the old villa as much as possible and at the same time give it a new contemporary layer in the form of a modern extension, which at the same time does not compete with the original building. The use of materials in the form of glass and CORTEN on the attached extension pleasantly contrasts with the reconstructed original construction of the villa, creating a very harmonious whole, which is fine-tuned by the tastefully and functionally realized garden.
In the book: Villas around the Mountain Park
The authors of the book "Villas around the Horské Park" Tomáš Berka and Ján M. Bahna also noticed our implementation without obligation, who wrote about it:
"Even in this part of the additions and reconstructions of the villas, there is always something pleasantly surprising to be found. We have walked this path for a long time. Seven years ago, we described and got to know the opposite Makovicky villa. That's when we noticed that opposite, the reconstruction and addition of the garden of a classic and rather unremarkable villa is being quietly completed. An entrance tract with a concrete staircase was added to the classic villa from the street side. The brown color of CORTEN drew our attention to new elements. We took pictures of the completion and landscaping of the garden from the back yard of the neighbor, where similar colored elements and exposed concrete appeared. Architectural elements are processed at a high level. This is how we imagine the reconstruction of a classic villa. We were still able to include this well-reconstructed object in this book." End of quote.