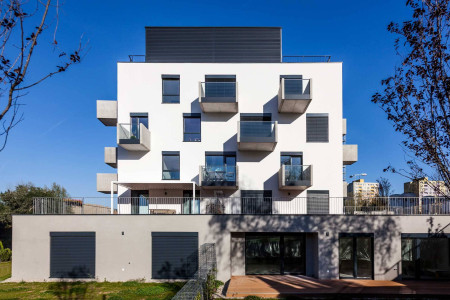 Garden villas
Residential complex with three buildings in Dúbravka, cooperation with ARCHIKÓD
The residential complex with three low-floor town villas has a total of 75 apartments
Within this construction, we participated in design and project activities. The project was created in cooperation with the ARCHIKÓD a.s. group. The apartment complex was nominated for the CE.ZA.AR architecture award. 2019
The residential complex with three low-floor town villas has a total of 75 apartments. Modern apartment buildings with a common garden, connected by a hidden underground garage. A landscaped green neighborhood of houses with benches and a place for a future community of neighbors.
Urban concept of buildings connected by an underground garage
Sloping land of the old gardening area, made it possible to create an urbanistic concept of objects connected by an underground garage. On its roof, a privatespace for apartment front gardensand also a semi-public space with plantings, a children's playground and a multifunctional sports field was created.
A simple form of architecture of three buildings of an irregular trapezoidal shape divided by a concrete parterre, typical floors with a checkerboard composition of windows with lowered parapets and louvered shutters, is finished by a stepped floor with roof apartments with a wooden slatted facade. We used the concept of checkerboard windows for larger concrete balconies, which gave the apartment buildings more plasticity.