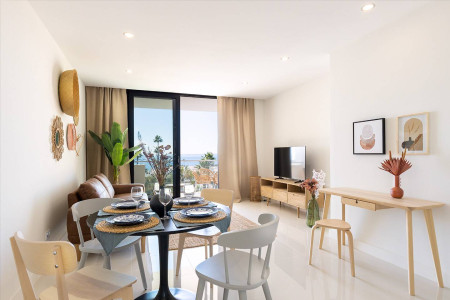 Manilva apartment
DESIGN OF AN APARTMENT WITH A GENEROUS AREA IN A PREMIUM BRATISLAVA DISTRICT.
The second realization of the interior in Spain on the popular Costa Del Sol coast. The apartment has an area of ​​89m2, while it consists of 2 bedrooms, 2 bathrooms and a living room connected to the kitchen. The apartment in question is located in a new building and was handed over to the client with an already completed kitchen, bathrooms and built-in wardrobes. The apartment has an elegant modern design, the floor in the living room. The living room is bright and spacious, with large windows that let in plenty of natural light, and the terrace has amazing sea views. The apartment has extra large porcelain tiles, a fully equipped kitchen and air conditioning, which make this apartment comfortable and stylish.
My task was to furnish the apartment with furniture and decorations so that it could be rented out to tourists. I opted for earthy colors and natural materials such as rattan, wood, straw lamps. I appropriately incorporated decorations and accessories in earthy colors, such as a sea grass lamp, stone flower pots with artificial flowers (as the apartment is intended for short-term rental), pictures and wall decorations in natural shades.
Our services included the selection of real estate according to the client's requirements and possibilities. Inspections and comparisons of selected options. The design of the way of use and the custom-made furnishing of the premises until moving in.