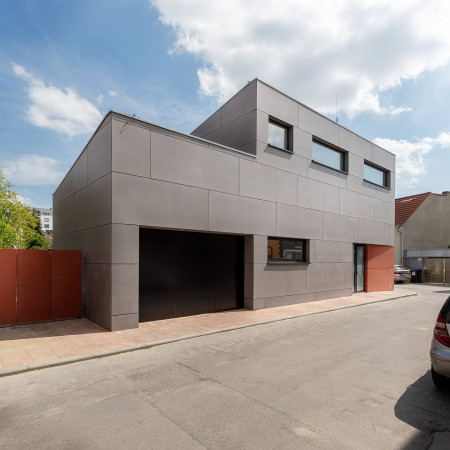 The family house in Piešťany is a typical town house. It is located on a corner lot near the pedestrian zone in Piešťany. It complements the shape of the street with its mass. In terms of height and shape, it follows the surrounding houses. These conditions were clear from the beginning of the design, and so already in the very early stages of the design, a scheme was created where the house forms a "wall" to the street and inside the plot there is a garden "oasis of peace".
The clients wanted a house that would serve as a place to stay during long weekends. It will allow them to escape from work to an oasis of peace, where they will still have the conveniences of the city at hand.
The house is divided into a daytime part for living and possible visits located on the ground floor, and a quiet part at night on the first floor. Large panoramic windows in the living area connect the interior and exterior. The living room becomes part of the garden. The garden contains original old and newly planted trees. Their abundance gives the garden an almost "forest" character and creates a good climate during the summer.
During winter when the leaves of the trees fall, the living space is heated by the sun.
On the ground floor there is also one bedroom for guests, including sanitary facilities. A large garage provides enough space for parking a car and for storing bicycles, garden tools and technical equipment of the house.
Upstairs is an open space with a small living space, a bedroom and sanitary facilities. The roof of the living room is used as a terrace with a view of the gardens in the middle of the city block.
The house has a ventilated facade lined with cement chipboards. This surface treatment of the house adds an urban character and at the same time provides a high-quality technical solution for thermal insulation in winter and prevention against overheating in summer.
Aluminum sliding and opening windows are a good investment for long-term functionality and good thermal properties. The house is equipped with underfloor heating and ceiling cooling. The system is designed so that it is always possible to use new technological and ecological options. After several years of use, the heat source was replaced by a heat pump, and the installation of photovoltaic panels is currently being considered.