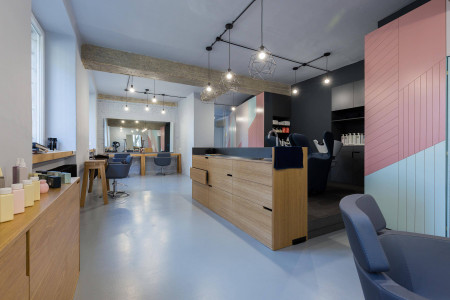 Salon Denis
Interior of a hairdressing salon. Cooperation of Zuzana Vlžáková.
Kadernícky salon is located on the ground floor of an older residential building on a busy street in the wider center of Bratislava. After years of experience as an employee in branded establishments the owner wanted to realize his own idea of ​​a non-traditional modern salon for his clients. Since the beginning of cooperation, we have paid attention to the overall impression that the customer should have when visiting the salon.
By demolishing almost all partitions and suspended ceilings, we opened up the space. Subsequently, by using one prominent built-in furniture element that runs through the entire salon, we unified and organized this space.
The free-standing custom steel tube furniture refers to the age of the building in which the salon is located.
The old concrete and masonry structures of the building are exposed and acknowledged in their raw form. They contrast with new furniture and a cast industrial floor. Lighting fixtures, like furniture, are "added" as another layer to the original structures. The contrast between old and new elements, legible layering by adding new constructions and furniture to an admittedly old space creates a visual contrast and feeling which, together with the color matching of the whole, gives the interior character.