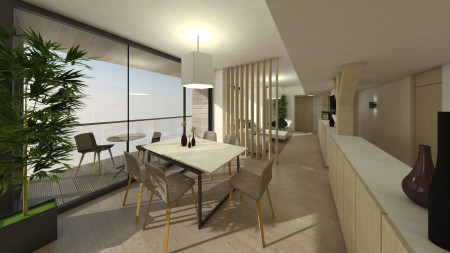 Staré Mesto extension
Realization of the extension of the apartment
Functioning of the attic spaces
The original attic spaces were without functional use, there was only the structure of the truss. Raising the floor above the tie beam creates a flat transition area suitable for equipment.Removing unused chimneys frees up space and makes it possible to create a corridor between the day and night parts of the apartment with toilets on both at the end of the corridor. The eastern part of the attic is partitioned into 4 living rooms and a bathroom. The division of the space is determined by the columns of the truss structure. The original shape of the roof from the street side remains unchanged and is equipped with skylights. By removing part of the truss in the western part of the floor and replacing it with a steel structure, a raised, cantilevered living space is created, which serves as the day part of the apartment with a kitchen, dining room and living room. The cantilevering is aligned to the same level as the mass of the staircase (extension and height). The cantilever also creates a residential balcony accessible from the kitchen and the sliding door of the living room.
The facade remains unchanged
The facade of the original apartment building remains unchanged - light-colored plaster. The facade of the attic console is largely made up of glazed window openings. The plaster of the console is color matched to the original object.