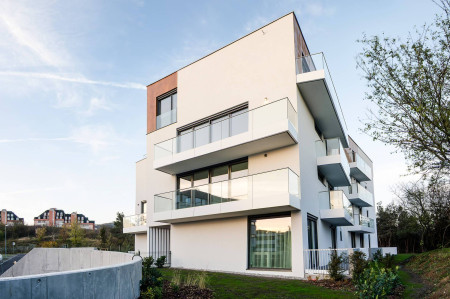 Vila Vista
Apartment building, cooperation with ARCHIKÓD
Within this construction, we participated in design and complete project work from the initial conceptual designs to the implementation documentation itself. The project was created in cooperation with the ARCHIKÓD a.s. group
The modern 4-storey apartment building is built in the Bratislava - Dúbravka area and there are 10 luxury apartments within the building. The complexly thought-out architectural concept is based on the creation of the interplay of the natural environment with modern architecture. The exterior is dominated by white plaster walls with wooden composite boards Parklex and glass railing. There are 3 apartments on each floor, on the last floor there is a spacious apartment with a large terrace. Each apartment offers a view of the panorama of the surrounding nature.
Spacious and modern apartments
Spacious and modern apartments offer an open floor plan with lots of natural light with a spacious central living area. Light and airy rooms offer plenty of natural light from French windows that give access to balconies with stunning views of the surrounding area.